Image Script
Our theme uses the WP_Image_Editor class and standard WordPress routines to generate images at the sizes specified in the different theme option panels. These are generated once when the page is first loaded. Any subsequent page load will use the image size that was generated and is now saved to disk.
Retina Images
When the image script is enabled, you have options to generate larger images to be served on devices with high resolution displays.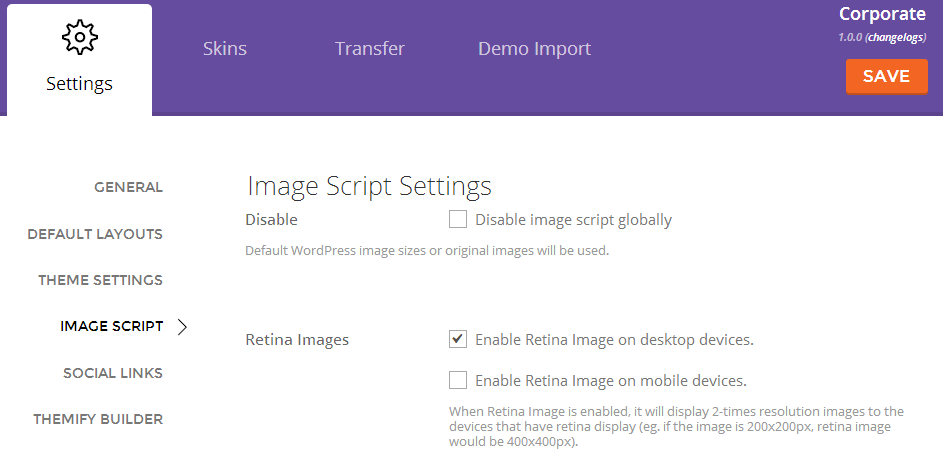 The only requirement for retina image generation, is that the image is large enough. For example: if you want to generate a standard image size of 200×200, the retina image size will be 400×400. If you upload an original image of 300×300 the retima image can't be generated.
External Images
While images from a different domain will still be loaded, no processing will be performed on them, that is, the original source image pointed by the URL will be used.
Disabling Image Script
To use only the standard image sizes Thumbnail, Medium and Large, and no custom size, the image script can be disabled at Themify > Settings > Image Script tab.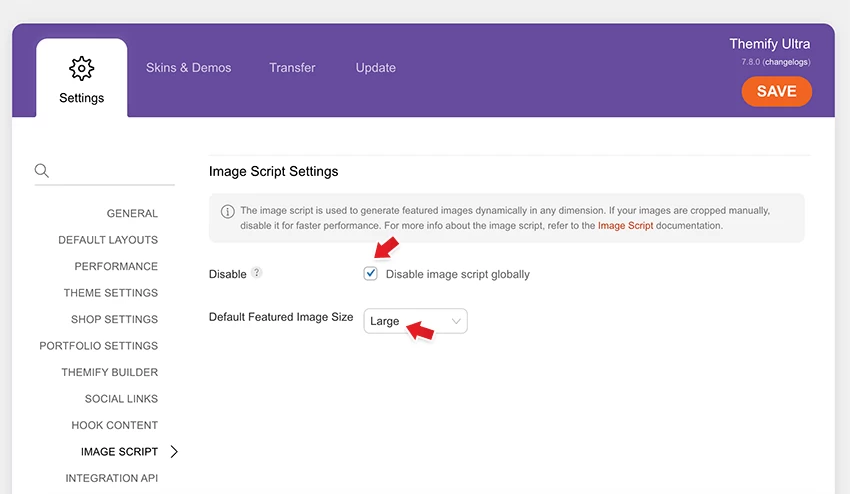 Once the image script is disabled, a dropdown will be available for you to choose which image size to use in default index layout and single post layout modules, as well as in each post editing screen. The image sizes (Thumbnail, Medium, Large) can be set at wp-admin > Settings > Media. In other words, you can specify 250 x 250px medium size to be used in the index pages and 560 x 300px large size for single post page.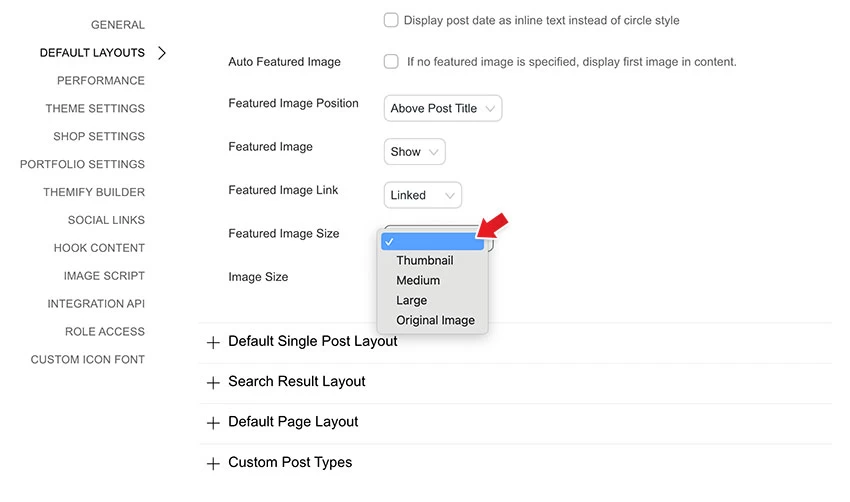 Rebuild Thumbnails
When you adjust thumbnail dimensions under WP > Settings > Media, the new sizes are not applied to the images you have previously uploaded to your site. To make the changes affect the standard image sizes Thumbnail, Medium and Large on your site, you need to install and run this plugin: http://wordpress.org/plugins/regenerate-thumbnails/
The custom image sizes are regenerated on the fly when the dimension changes.